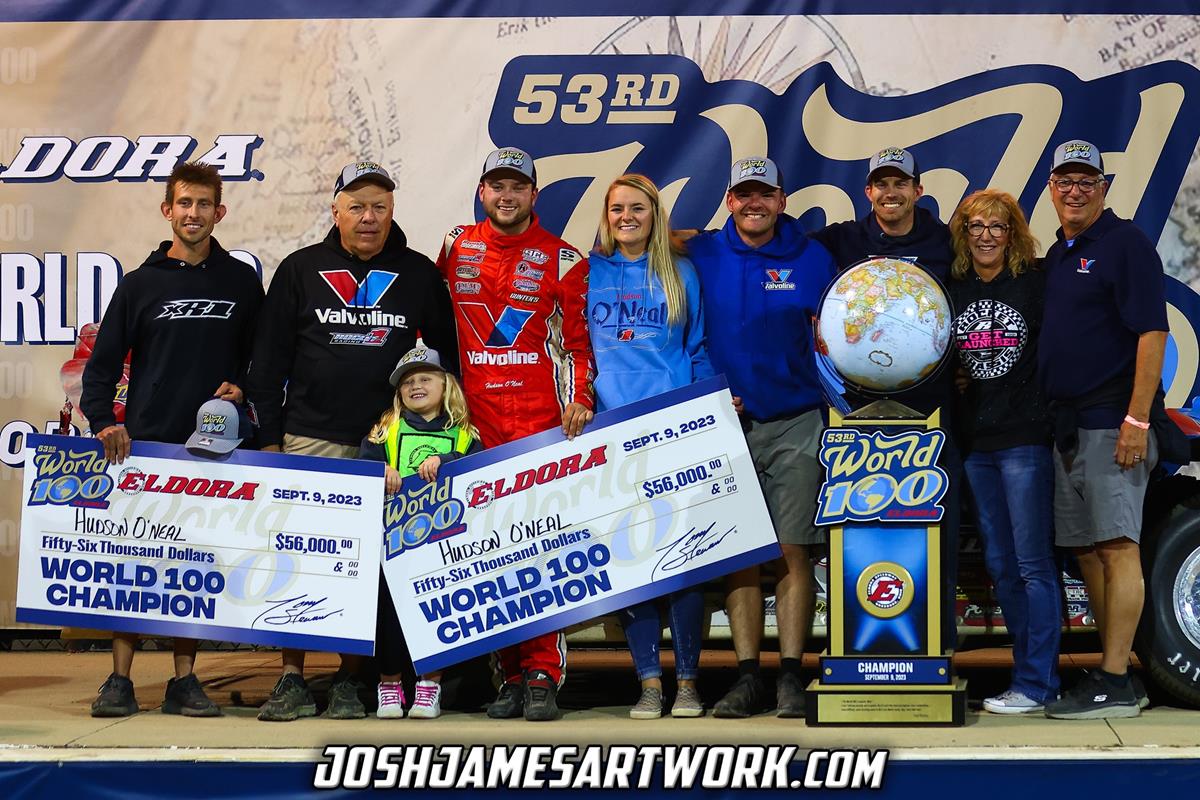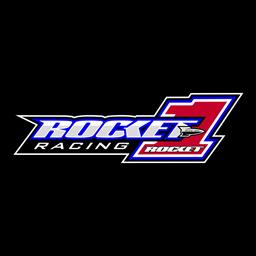 9/9/2023
---
O'Neal earns first World 100 victory for Rocket 1 at Eldora
After 50 years of being painfully close to claiming their first World 100 triumph, Rocket1 Racing finally won the coveted event on Saturday night with Indiana racer, Hudson O'Neal.
O'Neal surged to the lead in the closing circuits of the 100-lap affair and went on to win the $56,000 top prize along with the much sought after globe trophy with his Rocket1 Racing / Valvoline / Seubert Calf Ranches No. 1 Ace Metal Works / XR1 Rocket Chassis / Durham Racing Engine Super Late Model.
O'Neal paced several laps during the races' early stages before Jonathan Davenport took control of the lead on lap 52. However, Hudson persevered to get back to the top spot and the win.
"I didn't really get discouraged, but I knew it's gonna be hard to get back by him," O'Neal said. "I just gave it everything I had. I drove my heart out."
"Mark (Richards), Rocket Chassis, they've worked so hard to try and win this race and they won the (Eldora) Dream and he just told me 50 years, 50 years (since coming to Eldora) it took him to win this race," O'Neal continued in Victory Lane. "Today this isn't for me, this is for Mark. I'm the fortunate one here, but I owe all the thanks to Mark. He's given me such a great race car to come out here all three days and just be consistently fast and put me in a position to win that race.
"The Rocket1 team has fought from behind for the last couple of years and they just keep clawing and clawing and clawing. And we've had such a great race car all year long. And I just said, it felt like we haven't taken advantage of the speed, but this weekend we were able to. I'm just happy that I'm able to be standing up here man. I don't have the words."
Rocket1 Racing and Hudson O'Neal rolled into Eldora Speedway (Rossburg, Ohio) on Thursday night as the 53rd annual World 100 weekend kicked off with a pair of preliminary features.
With the 102-car field divided into two groups, O'Neal raced into his prelim with a runner-up showing in his 10-lap heat race. Rolling off third, Hudson powered underneath fellow front-row starter Jason Jameson following a lap-three restart and paced the remaining 23 circuits to claim his 13th win of the season and a $12,000 prize. He finished 2.561 seconds ahead of Jameson with Ricky Thornton Jr. rounding out the podium.
On Friday, Hudson claimed the fast-time honors overall with a blistering 15.300-second lap before going fourth-to-first in his heat. Rallying from the tail after a flat right-rear tire dropped him into the infield hot pit on lap 13 while leading, O'Neal improved seven positions in the remaining 12 circuits to finish 13th.
Lined up sixth in his heat race on Saturday based on Eldora's Every Lap Matters format, O'Neal took command of the lead on the fourth lap and went onto pick up the 20-lap victory.
Starting the 53rd annual World 100 in the second position, Hudson led laps 15-51 but was overtaken by five-time event winner Jonathan Davenport on lap 52. He regained the lead 40 circuits later and held off Davenport after a lap-98 restart to capture Rocket1 Racing's first World 100 and the $56,000 top prize.
O'Neal notched his 14th overall win of the 2023 season ahead of Davenport, Dale McDowell, Brian Shirley, and Tanner English.
Full results from the crown jewel weekend are available at www.EldoraSpeedway.com.
The team now carries their momentum into another busy week of racing with big prizes and prestige on the line. Action opens on Tuesday at Fairbury (Ill.) Speedway with the fourth annual One For the Road presented by I-Beam Sliding Doors. The Castrol FloRacing Night in America event posts a $23,023 top prize, and Hudson leads the miniseries back to action as the point leader.
After an off-day on Wednesday the team rolls into the legendary Knoxville (Iowa) Raceway on Thursday – Saturday for the Lucas Oil Late Model Knoxville Nationals. The Lucas Oil Late Model Dirt Series mega event features $7,000-to-win programs on Thursday and Friday followed by a $50,000-to-win finale. Hudson is second in the latest LOLMDS points.
Event details can be found at www.FloSeries.com and www.LucasDirt.com.
---
Article Credit: Josh James image
Article Media
Back to News